Customized 360 Degree Assessments are power tools used by thousands of organizations around the world.  In fact, they are used in 90% of today's Fortune 500 companies – a testament to their usefulness and popularity.  In 360 degree assessments, an individual is rated on their effectiveness across several competencies by a wide range of perspectives: self, boss, direct reports, clients, etc.  By using not only the boss or self-perspective but the perspectives of all those who an individual works with, 360 assessments offer a more complete picture of an individual's overall effectiveness.  More info. No two organizations are the same however, and the competencies critical to success in one may not be as important in another.  AAI offers customized 360 Degree Assessment based on your organization's needs and objectives.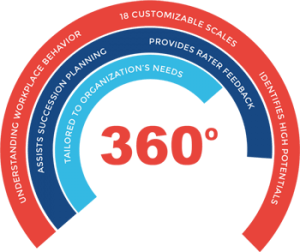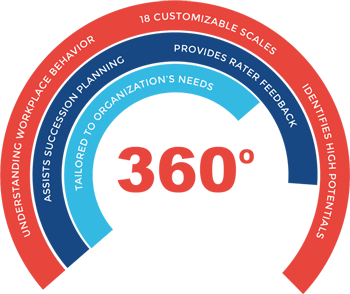 AAI's Customized Approach
AAI works closely with your organization to identify and define the competencies critical to success and important to your company's mission.  More info.
Identify Competencies.  First we work with you to identify the 10-20 most relevant and important competencies in your organization that drive success now and will do so in the future.
Define Competencies.  We define the competencies with concrete, behavioral statements that are observable and measureable.  These statements are based in work settings to be highly relevant, understandable, and relatable.  Several statements are developed for each competency to represent the key or critical behaviors and to provide a complete definition.
Link Competencies to Development.  We link each competency to specific, action-based development recommendations that can be used to improve or grow the behaviors that will drive career success.
Focused Development.  In feedback sessions, we focus on the high-impact competencies that through development will benefit the individual the most.  Since the competencies are defined to your organization, this ensures development is not only tailored to the individual, but to the needs of the organization now and in the future.