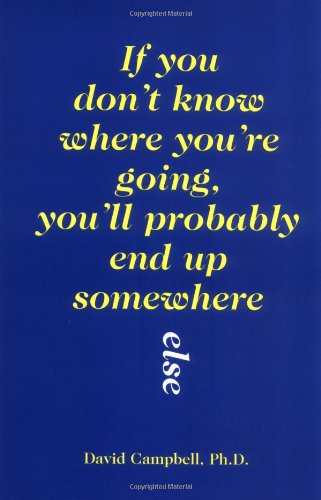 Buy Now
If you don't know where you are going, you'll probably end up somewhere else
3rd Edition
---
One of the most popular career guidance and career development books of all time, the previous editions of this book have sold over 600,000 copies. Now, updated and expanded, it is better than ever!
Dr. Campbell's updated edition offers sound, practical guidance for attaining the best possible future for yourself. Its lighthearted and fascinating style will help you understand, appreciate, and utilize the positive assets you have going for you. Will your future be determined by circumstances beyond your control, or will you play an important role in determining its force and direction? This depends on your range of options. The more talents you develop, the more skills you acquire, the more doorways to opportunity will be open to you. The goal is to help you make the most of what you have.
This easy-to-read book urges you to do things you like, things that interest you, and things you can do well, emphasizing how the daily choices you make will bring you closer to your ideal future. Campbell offers a simple method for setting goals, followed by advice for prioritizing, pursuing, and ultimately realizing those goals as a means to securing the future you've hoped and planned for.
Keywords
psychology, career, career development
Listed in
Self-Improvement
About the Author
David Campbell is best known as the creator of a leading career inventory, the Campbell Interest and Skills Survey (CISS), and a suite of leadership and development surveys. A pioneer in leadership assessment, Campbell joined the Center for Creative Leadership (CCL) in 1974 as a visiting fellow and later served as executive vice president, becoming CCL's first Smith Richardson Senior Fellow in 1981. He played a key role in founding CCL's Colorado Springs campus and in developing the center's innovative Leadership at the Peak (LAP) program.
His honors include being ASTD's 2012 Lifetime Achievement Award recipient, named a distinguished psychologist in management by the Society for Psychologists in Management, receiving the Distinguished Professional Contributions Award from the Society for Industrial and Organizational Psychology, and receiving an honorary doctorate from the University of Colorado.
Campbell earned his BS and MS degrees from Iowa State University and a doctorate in psychology from the University of Minnesota, where he served as a professor of psychology before joining CCL in 1974. Dr. Campbell retired from CCL in 2008 and has been working with Assessment Associates International (AAI) since 2010.