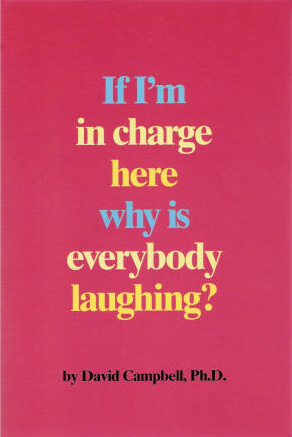 Buy Now
If I'm in Charge Here Why is Everybody Laughing?
3rd Edition
---
"Making a living is necessary and often satisfying; eventually, making a difference becomes more important"

Leadership is demanding, enriching, and exhilarating. All of us will be at some time in leadership roles. However, how do we assure our success as leaders? If I'm in charge here why is everybody laughing? is an insightful, humorous, and interesting book that is full of useful tips for people who are in leadership roles, or would like to be in a leadership position. It addresses such issues as:
What is leadership?
What do leaders do?
How can leaders bring out the best in the people they work with?
What are the best ways to overcome opposition?
Why are friendships so special to people in charge?
Having been carefully updated, the third edition of this popular book provides new insights into the nature of leadership. Using examples, antidotes, and the lessons of experience, it provides an engaging perspective on how you can lead others. Designed for people at all levels, it provides key insights on how you can truly make a difference.
Keywords
Leadership, management, talent development, psychology, career, career development
Listed in
Self-Improvement
About the Author
David Campbell is best known as the creator of a leading career inventory, the Campbell Interest and Skills Survey (CISS), and a suite of leadership and development surveys. A pioneer in leadership assessment, Campbell joined the Center for Creative Leadership (CCL) in 1974 as a visiting fellow and later served as executive vice president, becoming CCL's first Smith Richardson Senior Fellow in 1981. He played a key role in founding CCL's Colorado Springs campus and in developing the center's innovative Leadership at the Peak (LAP) program.
His honors include being ASTD's 2012 Lifetime Achievement Award recipient, named a distinguished psychologist in management by the Society for Psychologists in Management, receiving the Distinguished Professional Contributions Award from the Society for Industrial and Organizational Psychology, and receiving an honorary doctorate from the University of Colorado.
Campbell earned his BS and MS degrees from Iowa State University and a doctorate in psychology from the University of Minnesota, where he served as a professor of psychology before joining CCL in 1974. Dr. Campbell retired from CCL in 2008 and has been working with Assessment Associates International (AAI) since 2010.